The 5 Best Disc Golf Discs You Can Buy Today (Reviews)
Figuring out which discs are appropriate can be equally exciting and frustrating. To play the game right, you need the best disc golf discs. The right discs will be the defining line between victory and defeat.
Just like golf clubs, golf discs come in several different shapes: putters, drivers, and mid-range discs. Finding the best discs for you can be a very intimidating task, especially if you're new to the game. Fortunately, this guide will help you bag the most suitable disc for your skill level and gameplay.
What is Disc Golf?
If you've never played disc golf before, then this video can help you get started.
Disc golf is a similar sport to golf, but instead of aiming a ball into a hole using a club, you aim a disc into a basket using your hands. On average, there are 18 holes, but this depends on available space and the terrain's difficulty.
Each round is supposed to get harder by increasing the distance from the person to the hole and using tougher terrain. The rules of disc golf are fairly basic and it's a fun sport to play with friends when it's a clear, sunny day.
4 Factors to Consider When Buying a Disc Golf Discs
Disc Stability
Just like golf clubs, there are different types of discs that are designed to travel on a specific flight path. This explains why some discs will go left and others right. The flight characteristic of the disc is defined as "stability."
You should consider how hard you throw a golf disc, as this can affect the trajectory if it heads in a straight or uneven direction. If you have a fast speed behind your throw, the golf disc will turn to the right, compared to someone who throws with little speed. The wind can affect stability, so consider the location and the time of year you'll engage in this sport.
Disc Speed
Different discs have different speeds. Professional players with high power usually make use of high-speed discs. If you are a beginner, it is important to note that a high-speed disc will not automatically make you throw better and farther. Most beginners throw with a slower arm speed, so lighter golf discs can help to increase the disc's speed. To increase your speed, you'll first need to focus on power and control. As with every other sport, technique is more important than equipment.
A distance driver disc requires a lot amount of speed to make it all the way to the basket, which makes this sport a great choice for people who can throw far with ease. Remember, the challenge with disc golf is precision and not always distance. For example, you'll begin the game close to the first basket, so too much speed can actually throw you off-target.
Disk Type
You should also consider which disk type is best for you depending on the distance you'll cover. Here are the three different types:
Drivers: They usually have sharp edges with most of their weight concentrated on one side of the rim rather than equally distributed throughout. They have the longest flight but are quite difficult to control.
If you're an advanced player, a distance driver is ideal to throw over 80 meters, but beginners should stick to fairway drivers for more accuracy, as they move slower and don't travel as far.
Putters: They have the shortest and slowest flight, perfect for hitting the chains and making shots to the baskets. They are also used for making short and controlled upshots usually within 50 meters of the target. A putter disc should release from your hand easily.
Mid-range discs: They are more accurate but slower than drivers. They also have more stability and a predictable flight path although they're harder to control than putters. Often, they are used for close-range shots to get to the greens usually within 50 to 100 meters of the target. They're suitable for intermediate players.
Disk Weight
Lightweight discs allow beginners to have better control and throw farther. Moreover, you may find that you are more comfortable with a lighter driver than a heavier putter, or vice versa. These weights can vary from 120g to 180g, so consider your strength and the material of the basket as well.
We recommend beginners to choose a golf disc that weighs 175g, as you have better control in windy conditions, while a heavier weight will generally travel in a straighter line than lighter weight.
With those critical factors in mind, here are the best disc golf discs to consider:
5 Best Disc Golf Discs Comparison Table
Let's be honest. Buying sports equipment can be a very challenging and sometimes intimidating experience. You wouldn't want to embarrass yourself with discs that don't match your skill level, would you? Here are five of the best disc golf discs you can buy online to improve your performance.
Here are Our Full Reviews Of The 5 Best Disc Golf Discs
Innova Champion Disc Golf Discs
Innova is known as one of the best disc golf discs makers in the world, and the Champion Disc is one of their high-end sets.
Pros
✔
Good choice for beginners and pros.
Cons
❌
Hard to see discs from a distance.
These discs are made of very durable plastic that doesn't break easily when hitting a tree or rocks. It is light for easy control and longer flights which makes these discs ideal when the basket is farther away from you.
This set comes with a putter, and a mid-range and long-driver driver that all weigh 150g. This weight is ideal for intermediate players who are looking for a reliable and accurate performance every time.
| Quality | Price | Our Rating​ |
| --- | --- | --- |
| Good | $ | |
---
Discraft Titanium
The Titanium comes in two versions: the regular distance driver and the softer mid-range driver. Choose the golf disc type depending on the distance you're aiming for. This disc is fast, stable, flies straight, and doesn't require a lot of arm strength or speed control. This makes it quite forgiving for beginners and versatile enough for pros.
Cons
❌
Photo shown is misleading.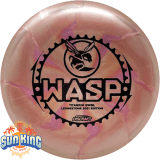 Compared to the previous version from Discraft, this golf disc offers an excellent grip so you can play the sport even when it's raining. It is made from durable plastic dubbed titanium that doesn't break from heavy impacts on rocks and trees. However, it only comes in just one color that unfortunately can blend in with grass and trees.
| Quality | Price | Our Rating​ |
| --- | --- | --- |
| Good | $ | |
---
Innova Valkyrie
Another masterpiece from Innova!
The Valkyrie has a perfectly balanced Turn-and-Fade and a relatively narrow rim that make it ideal for backhand beginners. In fact, it held the world record for the longest distance covered by a disc golf driver for almost 10 years.
Pros
✔
Perfectly balanced Turn-and-Fade.
Cons
❌
Will not roll for long distances.
Suitable for both beginners and intermediates, this disc offers great distance control and superb wind-resistance. If you opt for the 175g disc, you can combine this weight with a slow speed to reach a far distance. Many customers reported that this golf disc flies in a nearly-perfect line every time.
| Quality | Price | Our Rating​ |
| --- | --- | --- |
| Good | $ | |
---
Gateway Super Stupid Soft Voodoo
Enjoyed for its accuracy, high elasticity, and "super-stupid" softness, this disc makes a great putter. This softness makes it comfortable to hold for a long game and offers a sturdy grip. It is also lightweight and does not easily respond to headwinds.
Cons
❌
Not as soft as described.
❌
Color fades when washed.
This disc is constructed from a very sturdy and strong plastic that offers great durability while maintaining good flexibility and control. With its sleek design, it is faster and more accurate than most discs from Gateway.
| Quality | Price | Our Rating​ |
| --- | --- | --- |
| Good | $ | |
---
Discraft Avenger SS
The Avenger SS was designed to offer reliable gliding turnover drives and extremely longer flights at wider ranges. And it has done just that – if not better. This is one of the best golf discs to use in high winds because it's less likely to flip over.
Cons
❌
The plastic easily damages if it hits a tree etc.
​Its combination of high glide performance and balanced stability significantly extends its power while its Fade performance offers straighter and farther distances.
| Quality | Price | Our Rating​ |
| --- | --- | --- |
| Good | $ | |
---
Disc Golf Facts
Disc golf might have been invented in the early 1900s as it is closely tied to the history of the recreational flying disc.
The first recorded disc golf game is reported to have taken place in 1927 in Bladworth, a small village in Saskatchewan, Canada.
Before disc golf became what it is today, it started out as an improvised game played by elementary school kids which they called "Tin Lid Golf," as they used tin lids instead of plastic discs.
Disc golfing was only reintroduced to Canadians during the 1970s, when the Canadian Open Frisbee Championships took place in Toronto and Vancouver.
Therefore, it was only during the 1960s that the modern-day version of disc golf finally came to fruition in most parts of the world.
The general claim is that modern disc golf started either at Rice University in Houston, Texas, or at Pendleton King Park in Augusta, Georgia. Students at Rice University used to throw frisbees using trees as targets, while the Pendleton King Park group used large, 50-gallon barrel trash cans.
Many other improvised attempts at playing the sport have also been reported. It is said, for example, that even gazebos and water fountains were sometimes used as targets, not to speak of lamp posts, which were also commonly used.
Discs are typically eight or nine inches in diameter and come in a variety of types based on function: putter, mid-range, driver, and other more specialized models.
When it comes to playing disc golf professionally, you should know that the main authority is The Professional Disc Golf Association or the PDGA for short.
The PDGA handles membership, promotions, tournaments, course development, competition rules, standards, and just about anything related to playing disc golf on a professional level.
It is estimated that three countries account for roughly 85% of all disc golf courses in the world. The United States has 75%, Finland has 7%, while Canada has 3%.
In regards to scoring, most people prefer the same scoring system used in traditional golf.
"Steady Ed" Headrick created the first organized disc golf target with chains and hoops.
Dave Dunipace, one of the creators of Innova, invented the modern golf disc in 1983.
Headrick created the 1976 DGA, then the 1976 RDGA and the 1976 PDGA.
With over 3,000 courses in the US and 4,000 courses worldwide, the sport has grown at a rate of 12-15 percent over the past decade.
Disc golfing has appeared on ESPN's Top 10 Sports list twelve times in the past 20 years.
The first Saturday in the August of each year is officially recognized as National Disc Golf Day by The Professional Disc Golf Association.
The first permanent disc golf course, with metal baskets attached to a pole in the ground, in the world is located in Pasadena, California. It receives a large number of visitors every year both on account of its quality and of its history.
In 2006, only 8% of the PDGA members were women. Today, that number is much higher, but it's still significantly lower than the number of men.
In 2001, the top money winner of disc golf, Cameron Todd, received 25,000 dollars, or the equivalent of almost 37,000 dollars adjusted for inflation in 2020.
In August 2009, there were already close to 3000 disc golf terrain courses existing throughout the United States. As of 2021, this number has increased to an astounding 6652, which means 20 golf courses per 1 million inhabitants.
Frequently Asked Questions
What are good discs for beginners?
All of the discs presented in this guide are great choices for both beginners and professionals. Our main recommendation when it comes to picking up disc golfing as a beginner is to start with lighter discs so that you get used to gripping and throwing. There are several models on the market which present themselves as being starter packs, so you might want to do your own research into the matter.
Is disc golf the same as Frisbee golf?
Yes, disc golf is basically just another name for Frisbee golf. It's not clear which term is more common and in what regions, but for all intents and purposes, these two names can be used interchangeably when referring to the same game.
What is the proper name for a disc golf target?
Officially, the disc golf target is called a basket. However, there are tons of players who prefer to call it a pole hole, disc golf target, disc entrapment device, or simply "goal." It depends on your preferences and on who you're playing with. But, yes, if you're taking part in an official game, the proper term is "basket."
How many discs do you need for disc golf?
You will likely need at least three discs: a driver, a mid-range disc, and a putter. Most beginner sets will include all the three basic disc types. If not, you can search for sets that include them all or add the remaining discs according to your needs from individual brands and retailers.
How long does it take to get good at disc golf?
This depends on several factors, as you can probably imagine, but many new players get a good feel of the game in about two or three years with regular practice. Of course, those who have a certain incline towards throwing discs the right way will get the hang of it much faster. Also, those who have played similar sports on a professional level could probably get really good at disc golf in less than half a year.
How many acres are needed for a disc golf course?
If you plan on playing disc golf at the championship level, namely the course with 18 holes, then you're going to need one or two acres per hole. However, for amateur disc golf, you'll only need 9 holes with a total area of just four acres.
Get the Best Disc Golf Disc for You!
If you've never played disc golf before, this video can help you get started.
If you're eager to get started with disc golf or wish to improve your strategy and performance, the above golf discs are great for all players. The equipment you use makes a huge difference to your score, so ensure you purchase a golf disc that suits your ability and intended target. We even recommend purchasing multiple golf discs so you have a variety to choose from during play.
Do any of the above products stand out to you? Share your thoughts or other recommendations in the comments to keep this conversation going. The more we learn from you, the better!
https://funattic.com/app/uploads/2019/04/discs.jpg
800
1500
Janice Friedman
/app/uploads/2016/03/funattic-logo-1.png
Janice Friedman
2021-06-18 18:00:00
2021-06-30 09:16:02
The 5 Best Disc Golf Discs You Can Buy Today (Reviews)